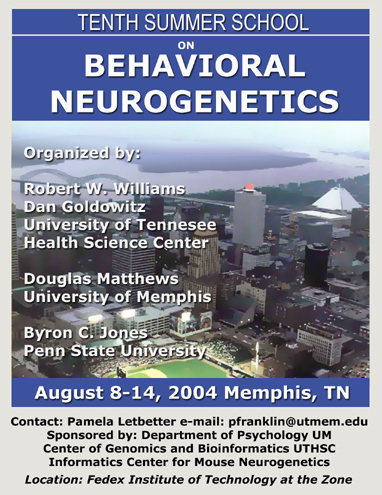 The Tenth International Summer School on Behavioral Neurogenetics
Announcing The Tenth International Summer School on Behavioral Neurogenetics, August 8�14, 2004, Memphis, Tennessee, USA. The 2004 School will be held at the new FedEx Institute of Technology on the University of Memphis campus (
http://fedex.memphis.edu
). The school is aimed at graduate students and beginning or advanced researchers who wish to bring genetic definition to their research. No previous knowledge of genetics is assumed, although a basic understanding of statistics will be helpful. Topics covered include basic quantitative and molecular genetics and linkage analysis. Selected current findings in the field of behavioral neurogenetics will be presented by practicing researchers and the range of organisms discussed span humans and rodents to flies and nematodes. Also presented will be latest applications to study gene expression and methods to study gene-environment interactions. This year's special emphasis will be on bioinformatics, complex trait analysis, and high-throughput behavioral screening methods.
Focus
Basic quantitative and molecular neurogenetics and behavioral genetics for new and experienced investigator in the field. Topics covered include basic statistical models, research design, linkage analysis, structure and function of DNA, complex trait analysis, bioinformatics, mutagenesis and knockouts, animal models, human studies, psychiatric genetics, pharmacogenetics, and ethics in animal and human genetic research.
Format
The method of instruction is primarily lecture by experts in the fields with additional time set aside for discussion and review, and computer laboratory workshops. Students are encouraged to prepare and bring posters for a poster session. Noontime meals will be included in the tuition fee and will be taken together (faculty and students). On Friday, August 13, there will be an afternoon outing to the
Mississippi River Walk
,
Mud Island
, followed by an evening dinner cruise on the river. Count on catfish, barbeque, and
the blues
.
Housing
We have blocked out a set of hotel suites with high-speed Internet at a new Holiday Inn directly across from the FedEx Institute of Technology. Please link to
www.wilsonhotels.com/hiuom/hiuom.html
. For those students who would like to cut costs and share, we will help you find room mates.
Course directors
Robert W. Williams (rwilliams@uthsc.edu); Douglas Matthews, Byron Jones (bcj1@psu.edu), Dan Goldowitz. CONTACT and QUESTIONS: Pam at pfranklin@utmem.edu (tel: 901/448-7050)
HOSTED by
The University of Tennessee Center of Genomics and Bioinformatics, The INIA, FedEX Institute of Technology, Pennsylvania State University, University of Memphis, Department of Psychology The Informatics Center of Mouse Neurogenetics, Tennessee Center for Addictions Research, NIMH, NIAAA, and NSF.
Tuition
$600 Graduate Students/Postdocs | $900 Faculty/Scientists
Driving Directions
View Map
From Memphis International Airport:
Exit Airport onto Airways Blvd. North
Travel 3.8 miles (Airways Blvd. becomes East Parkway)
Turn right on Central; travel 2.5 miles
Turn right on Innovation Drive.
Park in the garage on the left .